Newsletter overall description text goes here.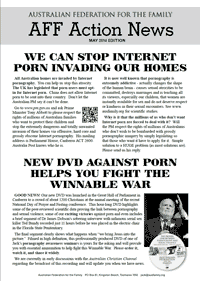 The June 2014 Action News is now available. Contents include:
We Can Stop Internet Porn Invading Our Homes
New DVD Against Porn Helps You Fight The Winnable War
Together, We are Winning the "Winnable War"
Dangerous X-Rated Porn Floods Across Nation
Visit our amazing new professionally produced website!
Bendigo Bank Snubs Christians, Embraces Islam?
Qld Govt Approves Penthouse for Small Children
Why You are more powerful and effective than you ever thought
Mosques Bad for Aussie Women … and Everyone
More Folks Needed in the Winnable War
The Aurora Chaser's Handbook
Sodomy and 'GayTMs' Sponsored by ANZ Bank
The Companies who PAID for the SBS Broadcast of the Sydney Mardi Gras
Click through to read online or download and share a PDF copy.
"Like some death with your porn?" Sex Shops are happy to oblige.
Homosexual Relationships Registry: from heaven or hell?
Is Islam good for Australia? ...and is the Qur'an OK to swear in our elected officials and Cabinet Ministers?
Concerning Prostitution Down Under: why do we pray "Thy Kingdom Come, Thy Will be Done, on Earth as it is in Sweden"?
Queensland Government Approves Penthouse Magazine for Small Children
Although abortion is our most common operation, let's please stop killing our pre-born with our tax money because the mother doesn't like their baby's gender!
The unexpected RU486 Victory! We won "round 1"...now get ready for "round 2"
Also: new study concludes "TV the single biggest influence on sexual habits of the young" and Statewide Internet Filtering Trial Announced for Tasmania!
Plus: plenty of helpful statistics and effective steps to take